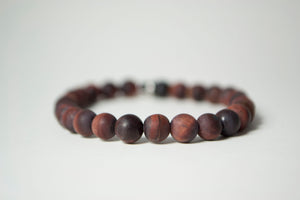 Love Hope
Red Tiger's Eye
Sale price Price $24.00 Regular price
10% of the proceeds from this purchase goes to your chosen cause. Wear your cause.
This versatile bracelet from our Infuse Collection is hand-strung with 6mm matte Red Tiger's Eye to fit perfectly on any stack of bracelets. Take the benefits of aroma therapy with you on the featured Lava Stone accent bead. Infuse the Lava Stone with your favorite oil for up to two days of aroma therapy.
Materials 
6mm Matte red Tiger's Eye
6mm Infusible, Lava Stone
Stainless Steal Finishings
Powercord Elastic
How to wear your cause
Great bracelet for any stack, and a beautiful accessory for any occasion. consider wearing this powerful stone with your favorite outfits.